At Home Self-Vaccination System
The Covid-19 pandemic has accentuated the need to be able to vaccinate millions of people within a short period of time. 
Our self-vaccination platform supports mass vaccination campaigns.  It provides a holistic solution that ensures that the vaccine is safely and effectively delivered to the correct patient and prevents any patient mix-up.  Our application guides the user throughout the vaccination process and verifies its completion.  The vaccination is then certified and recorded in the HMO database.
Our solution is ideal for self-isolated patients since they can vaccinate themselves at home and they do not need to go to a clinic. This safeguards the population at large and limits the risk of spreading the disease or pandemic.
Our platforms incorporate micromechanics and microfluidics technologies.

We have created a unique 'Piece and Draw' mechanism that enables our micro sized needles to pierce the skin, draw blood and withdraw, all within in a single and automated action.
One of the key differentiators of our self-injection devices is that the needle penetrates the skin at an oblique angle.  This ensures a pain-free treatment experience and prevents any needle injuries.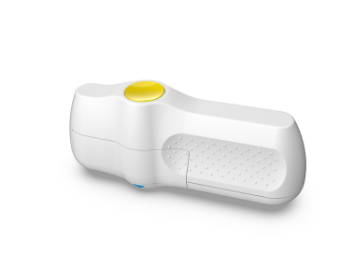 SIV-500
Capacity: 300-500 µl